People have found investing in oil exploration/integrated and deep water drilling a great place to be, and with good reason. My intention is not point out any faults in these various patches of the oil complex, but to bring to light an often overlooked area. As all investors know, those who go overlooked in a bullish sector often produce higher rates of return down the road. I'm not saying this is the case with most of the oil sands, but I think it would be wise for those thinking oil will go back up over $100 or even $200 in the coming decade to investigate this promising field.
Though I acknowledge they necessarily will have lower operating margins than most oil companies, oil over $100/barrel will mitigate this concern. One has to realize the enormous reserve base of the oil sands, allowing these companies to produce larger quantities of oil for a longer periods of time to a substantial degree. If that doesn't spark your interest, there are several companies that have an oil sands operation to complement their flagship operations. The three largest projects in the Oil Sands are Synacrude, The Suncor Mine and The Albian Sands. They all continue to grow output year after year which is very significant as many oil companies' production is dropping off in the face of peak oil.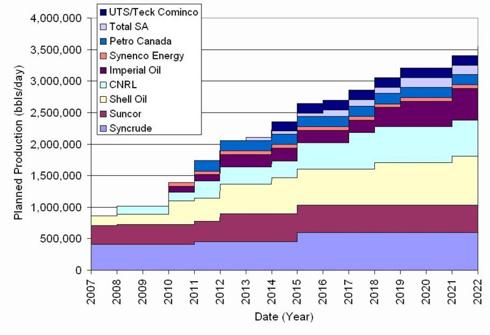 My favorite companies that are engaged In oil sands production are Suncor (SU) (mostly due to their purchase of Petro-Canada (PCZ) with its 100% Mckay River interest and 12% interest in Synacrude) and Canadian Oil Sands Unit Trust TSX (COSWF.PK), due to its valuation. Other major oil sands producers planning to increase production include Royal Dutch Shell (RDS.A) (to 770,000 bbl/d (122,000 m³/d); Syncrude Canada (to 550,000 bbl/d (87,000 m³/d); Suncor Energy (to 500,000 bbl/d (79,000 m³/d) and Canadian Natural Resources (CNQ) (to 500,000 bbl/d (79,000 m³/d). If all these plans come to fruition, these five companies will be producing over 3.3 million bbl/d (500,000 m3/d) of oil from oil sands by 2028.