With all the heat brought on lately by the CFTC against the manipulation in the silver market, it appears they have began unwinding their short positions. They are obviously trying to do this in an orderly fashion in order to mitigate the losses they are bound to suffer at some point in time. By doing this slowly they can in effect increase their spreading (having both long and short positions).
Just as I did in
my article a few weeks back
, I will briefly run through the numbers, highlighting the most important parts. Remember, it;s not just the total net short position of all the commercial banks but rather the 4th and 8th largest commercials banks. Below is the current COT chart.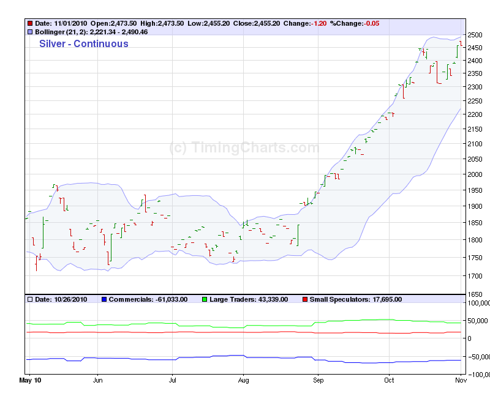 As you can see, the commercials have taken an absolute pounding, seen through the rising price of silver while short over 63k contracts for the big 8, or 315m ounces (31.5% of total world bullion inventories). They are being squeezed, which will amount to millions of dollars in losses. This charade can only go on for so long, thus I think the time for the short squeeze is less than 2-3 months on the horizon. Getting to the numbers.
Open Interest: 152,980 contracts
Gross Long Position: 30,157
Gross Short Position: 88,023
Net Position of the commercials: (57,866) contracts - 8 Largest
Net Position of the 4 largest (48,342)
Adjustments For Spreading;
Non-Commercial: 39,270
New Open Interest: 113,710
New Percentage held by top 4- 42.51% up from 31.6% before the first adjustment
Unadjusted Net Position of top 8 - 41.20%
Net Position of top 8 - (63,028)
Raptors Position - 14,686
Commercial Spread Position - 15,471
Fully Adjusted Open Interest - 98,239
Real Percentage Held by 4 largest - 49.21%
Real Percentage Held by 8 largest - 64.14%
Net position of total bullion inventories - 31.51%
Takeaways: The reduction in the net short position over the last 6 weeks is important, along with the reduction of the total net short positions divided by total silver bullion inventories (approximately 7.5k reduction in the net short position and 2.8% reduction in world bullion inventories), but this isn't the most telling part of the story. What you want to pay attention to is the concentration levels of the 4 largest as they more or less control this small market. A reduction of 1,100 contracts w/w is a telling sign along with the longer trend of a 4,700 contract reduction over the last 5 weeks. While the concentration has only decreased approximately 1% without adjustments, the increase incommercial spreading(up 2,300 contracts) tells us that the commercials are getting a bit worried at the very least.
Summing the most recent COT report up, the outlook for silver looks good and a short squeeze is in the works. The timing of this, however, is very hard to identify.
3-month price target; $32/oz